We're open! Dependable Auto Repair In Marion
Whether you need your brakes serviced, oil changed, battery replaced or other auto repairs, In-N-Out Automotive Repair in Marion is here to help. Save time by calling 765-573-6529 to schedule an appointment or just stop by at 702 N Baldwin Ave and drop your vehicle off at our repair shop.
In-N-Out Automotive Repair Offers Auto Repair Services You Can Count On!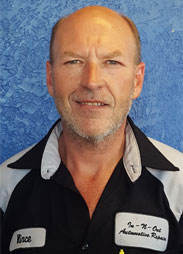 Since 2013, In-N-Out Automotive Repair has provided motorists in the Marion, IN 46952 area with comprehensive auto repair services that include 4x4 Services, Alignment, Brakes, Car & Truck Care, Domestic Cars & Trucks, Electrical Services, Electronic Services, Engine & Transmission, Engine Maintenance, General Services, Heating and Cooling Services, Import Cars & Trucks, Tires, Transmission Services and Undercar Services. Our goal is to offer the best services available at affordable prices to get you back on the road in no time.

You'll be hard-pressed to find the same level of expertise that our auto mechanic specialists provide! We have years of experience working on both domestic and import vehicles of all makes and models and can work with you to find cost-effective repair and maintenance alternatives.

For a high-performing vehicle, trust In-N-Out Automotive Repair with your car, truck, or van. To learn more about the services we offer, please contact us by phone at 765-573-6529 or send us an email. We also invite you to learn more about our dedication to you, our valued customer.
Vehicle Tips
According to recent studies, 5 percent of all motor vehicle fatalities are clearly caused by automobile maintenance neglect.
The cooling system should be completely flushed and refilled about every 24 months. The level, condition, and concentration of coolant should be checked. (A 50/50 mix of anti-freeze and water is usually recommended.)
Never remove the radiator cap until the engine has thoroughly cooled. The tightness and condition of drive belts, clamps and hoses should be checked by a pro.
Change your oil and oil filter as specified in your manual, or more often (every 3,000 miles) if you make frequent short jaunts, extended trips with lots of luggage or tow a trailer.
Replace other filters (air, fuel, PCV, etc.) as recommended, or more often in dusty conditions. Get engine drivability problems (hard stops, rough idling, stalling, diminished power, etc.) corrected at a good shop.
A dirty windshield causes eye fatigue and can pose a safety hazard. Replace worn blades and get plenty of windshield washer solvent.
Have your tires rotated about every 5,000 miles. Check tire pressures once a month; let the tires cool down first. Don't forget your spare and be sure your jack is in good condition.
Check your owner's manual to find out what fuel octane rating your car's engine needs then buy it.
Keep your tires inflated to the proper levels. Under-inflated tires make it harder for your car to move down the road, which means your engine uses more fuel to maintain speed.
Lighten the load. Heavier vehicles use more fuel, so clean out unnecessary weight in the passenger compartment or trunk before you hit the road.
Use the A/C sparingly. The air conditioner puts extra load on the engine forcing more fuel to be used.
Keep your windows closed. Wide-open windows, especially at highway speeds, increase aerodynamic drag and the result is up to a 10% decrease in fuel economy.
Avoid long idling. If you anticipate being stopped for more than one minute, shut off the car. Contrary to popular belief, restarting the car uses less fuel than letting it idle.
Stay within posted speed limits. The faster you drive, the more fuel you use. For example, driving at 65 miles per hour (mph) rather than 55 mph, increases fuel consumption by 20 percent.
Use cruise control. Using cruise control on highway trips can help you maintain a constant speed and, in most cases, reduce your fuel consumption.
Keep your engine tuned. A fouled spark plug or plugged/restricted fuel injector can reduce fuel efficiency as much as 30 percent.
Inspect the engine's belts regularly. Look for cracks or missing sections or segments. Worn belts will affect the engine performance.
Have the fuel filter changed every 10,000 miles to prevent rust, dirt and other impurities from entering the fuel system.
Change the transmission fluid and filter every 15,000 to 18,000 miles. This will protect the precision-crafted components of the transmission/transaxle.
Inspect the suspension system regularly. This will extend the life of the vehicle's tires.
What Our Customers Are Saying

Marion
So, this is an update to a review I submitted about my truck previously, and I want to be woman enough to apologize because In & Out did do their part and get my truck fixed. After careful review we found out the problem was a simple fix. Thank God because regardless we didn't want anyone having to come out of pocket on a pricey fix. We have always used In & Out and again I apologize for over-reacting about the whole situation. Thanks for doing your job!

I only entrust all of my vehicles maintenance to the guys at In and Out. Great quality, service and customer care. As long as Vince and his team are in business I have "a car guy"!

Got my car running and a yr and a half later still going strong thank you IN and OUT Auto

They have worked on my vehicles and prices are best in town. Vince makes sure you leave happy.

They are always fair and respectful.

Ur In and Out! They seem to have repeated customers...

Great service, great people reasonably priced would definitely recommend for your automotive needs. Very knowledgeable. Vince and staff, thank you!

I have taken my 2011 Camaro and 1986 Pontiac Fiero GT to In N Out Automotive and Repair. They did great work at a very affordable price. I will be back and recommend them for service on your vehicles!

First of all, the mechanics are very educated about vehicles The service is outstanding, and they try to get you in and out as soon as possible ! Their quality for the price is exceptional. Last but not least, if you have any issues with the problem you had on your repair, Vince will not hesitate in taking care of it. Tessa is very friendly, as well as everyone who works there. I highly recommend In N Out to everyone who wants anything repaired on any of their vehicles.

The work was completed very quickly, I would highly recommend and will absolutely return there for all of my auto repairs, Very pleased!

I have had all my repairs done at In and Out and have been very pleased with the service they have done for me at a fair and honest price. Vince knows how to do it and get it done for you.

I'm here now and have always come here. Never had to come back because something wasn't fixed right. Prices are very good and service is excellent! Thanks for all you do Vince and team!

Very nice. Quick and knowledgeable. Definitely recommend.

This is a great shop. Vince and his gang always take great care of my 86 Fiero GT.

Any business that steps up and takes care of their customers like In and Out does deserves a 10 star rating. Unfortunately this only allows me to give them a 5 star rating. Thank you for being a shop that puts your customers first!

Amazing service, fast and friendly! Thanks Vince!

Great service and great people. Know the owner and you won't get treated better anyplace else... five stars.